05 October 2016
A Gospel Christmas at All Nations Centre
---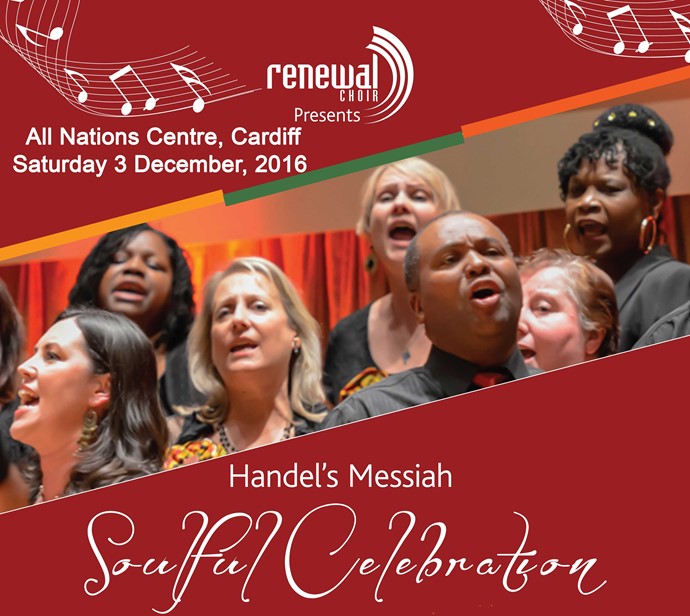 Looking to get in the festive mood? Love good music? Want to experience the joy of a choir in full flow? For an all-round enjoyable Christmas production don't miss this treat.
Bristol based Renewal Gospel Choir have been singing soul stirring gospel music since 2005 and this Christmas we're delighted to say they will be with us live at All Nations Centre. Along with some special guests, they will be performing a rendition of the marvellously moving production of Handel's Messiah, A Soulful Celebration on Saturday 3rd December at 7pm. In collaboration with a number of artists Renewal Choir is poised to deliver an exciting musical feast with movement, music and magnetism.
Tickets are now live, with full details here:
http://renewalchoir.org/cardiff-event-tickets-3-december-2016/
Alternatively, just pop into All Nations Centre during office hours to pick up some in person. 
The Production
Handel's Messiah, A Soulful Celebration is an African-American arrangement of the oratorios that make up Handel's Messiah.  The arrangement consists of a blend of elements of jazz, soul, reggae and hip hop with the traditional classical genre. The project first appeared in the year 1993 on CD and won a Grammy award in the category "Best Contemporary Soul Gospel Album."
This modern adaptation of The Messiah, produced by Quincy Jones, Mervyn Warren and Michael O. Jackson, builds on the melodies of Handel to form an excellent arrangement. The lyrics of Charles Jennens, arranged from various Bible verses, are solemn and weighty.  They are what differentiate Gospel music from popular music. This Soulful Celebration paints a picture of a range of styles covered within black music and how they developed.
---
Make an Enquiry
Related News
The team at The All Nations Centre were fantastic and gave us lots of flexibility in the lead up to our healthcare conference , and the catering on the day was superb!

Melissa O'Connor

Event Manager, NHS

Conference Space

What we do