25 October 2016
Rob Parsons a big hit at Leadership Breakfast
---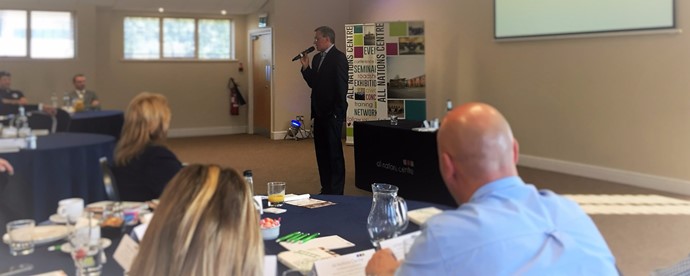 It was our great pleasure to host the latest Kairos Leadership Breakfast with Rob Parsons OBE
Fifty delegates came together to enjoy breakfast, network together and hear from world class speaker Rob Parsons.
Rob in his unique way weaved together stories of his own life and others to inspire all to greater things. Challenging why we do what we do, and what is really important in life all left provoked and yet built up. Rob also surprised everyone with free copies of his book 'The Heart of Success - making it in business without losing in life' which was a most generous gift all were grateful for. He even made time to sign the bestseller and have a chat with all who wanted to. That in many ways sums up Rob Parsons, and the chairty he oversees, Care for the Family. They are generous, giving to as many as they can with no hidden agenda, only to bless, help and encourage. Do have a look at their great work here: https://www.careforthefamily.org.uk/
And so another Kairos Breakfast came and went.
Each one has been unique with outstanding speakers. Many tell us this is the best breakfast in town, or their favourite networking event, or that there is nothing like this they have ever been to! So what's next? Well, the Kairos team hope to have an update for you soon. Watch this space!
---
Make an Enquiry
Related News
The team at The All Nations Centre were fantastic and gave us lots of flexibility in the lead up to our healthcare conference , and the catering on the day was superb!

Melissa O'Connor

Event Manager, NHS

Conference Space

What we do