12 July 2016
Kairos Leads The Way.
---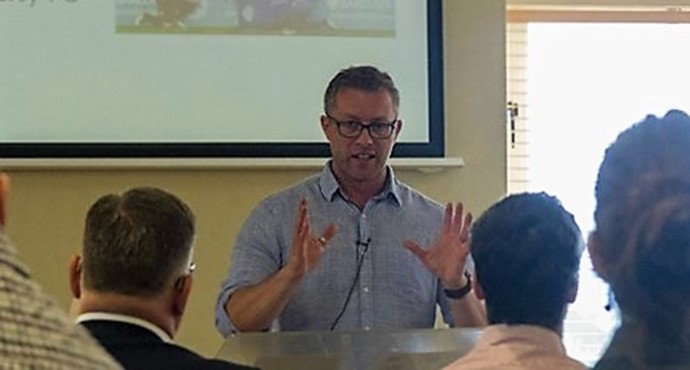 It was our pleasure to host the first 'Kairos Leadership Breakfast' recently. Many came out to network together, enjoy a first class breakfast and invest in themselves with leadership input. Andrew Hulley, the current chaplain to Leicester City FC shared engaging stories from his own life, as well as observations from a Premiership winning team. One such nugget was to hear about the power of a consistently positive leader in Claudio Ranieri who always seeks to draw the best of people.
Andrew certainly carried the attention of the room superbly with wit and humour and was only too happy to answer the many questions people had at the end.
Having hosted a few networking breakfasts in the past, this 'Kairos Leadership Breakfast' represented a definite shift to emphasise the benefit of personal leadership growth for all.
Save the date...
We're delighted and feel very honoured that Rob Parsons OBE will be with us with some great leadership provocation on October 13th 2016. A prolific author, his book 'The Heart of Success' offers great wisdom on how to lead well and succeed in life. Rob has had a successful career as a senior law partner and co-founded one of the UK's most successful legal training and consultancy firms. He has a reputation as an outstanding keynote speaker and has spoken to almost a million people in corporate and family-life events around the world.
To benefit from the 'Early Bird Special' simply click the link below...
---
Make an Enquiry
Related News
The team at The All Nations Centre were fantastic and gave us lots of flexibility in the lead up to our healthcare conference , and the catering on the day was superb!

Melissa O'Connor

Event Manager, NHS

Conference Space

What we do